Zumiez Virtual Events & Sweeps
Overview

During the summer of 2019 I completed a 3 month Graphic Design internship at Zumiez with their Brand Marketing department. This internship evolved into an ongoing partnership where I continued to work as a contract Graphic Designer. You can check out my internship projects (
here
). My recent work with Zumiez has primarily focused on virtual events which you can find details of below.
I am happy to provide additional examples of my work and the expanded assets created for these projects, so please feel free to
contact me
!
Reflection

During the pandemic, Zumiez was faced with the challenge of bringing their in-person events to life in the digital space while following their usual unique style and overall goal of "blowing minds."
My favorite part about this role was learning to create work far outside my comfort zone. Zumiez is constantly striving not only to foster engaging customer relationships between their brand and users, but to create a supportive and inclusive environment that allows for individuality to thrive.
I had the opportunity to take charge of the visual direction for many events that I worked on during my contract. These included Discord x Animal Crossing scavenger hunts, countless brand-partnered giveaways, Twitch live stream game shows, art contests, and even having people literally watch a giant ice cube melt.
I admire how Zumiez was able to maintain the eccentric and unique nature of their events in the digital space, and I'm happy to have had the opportunity to be a part of it.
Timeline
2019 & 2021

Tools
Illustrator
Photoshop
Indesign

Roles
Visual Design
Illustration

Digital assets for Arbor x The Zumiez Stash virtual event
(Instagram Story Flyer: Left, Zumiez App Thumbnail: Right)
Zumiez Exclusive Events & Sweeps
Zumiez hosts a multitude of brand partnered events. Before the pandemic, a majority of these were held in person across the United States. Over the past year, they have hosted all events virtually on Twitch, Discord, and their social media accounts. I had the opportunity to pilot the visual design for some of these events, and was tasked with catching user's attention and emulating the tone and energy of each event.
Website and Zumiez App Promos for Boss Dog Live Stream Event (Above)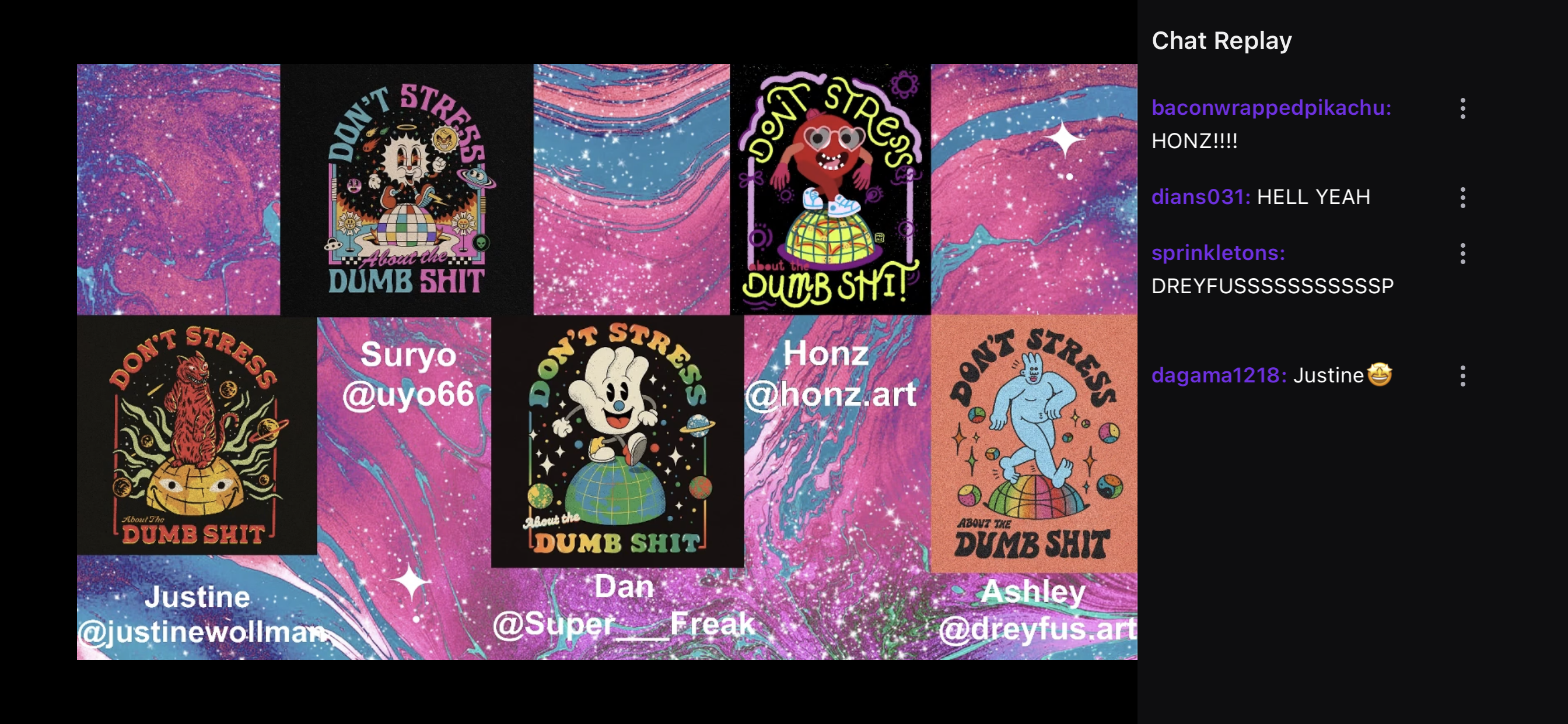 OBS Screens for Design a Sticker with Boss Dog live stream hosted on Twitch
(Stickers featured in second screen are not my work)
Instagram Story Flyers for By Samii Ryan Live Stream Event (Above)
OBS Screens and Screenshot of Tie Dye with Samii Ryan live stream hosted on Twitch
The Zumiez Stash
The Zumiez Stash features member exclusive opportunities to earn points and exchange them for the chance to win limited edition prizes and experiences. I worked on assets for The Zumiez Stash in conjunction with brand-partnered events and giveaways that were featured on zumiez.com and Zumiez social media accounts.

Instagram Story Flyer for Zumiez Stash Exclusive Sweeps
Zumiez x A Lost Cause Sweeps
Instagram Story Flyer (Top Left) Zumiez App Thumbnail (Top Right)
Website Promotional Banners Mobile Version (Bottom Left) Desktop Version (Bottom Right)
Event Logo, Instagram Flyer and Zumiez App Digital Asset (Top) OBS Screen from Zumiez Stick or Stack live stream hosted on Twitch (Bottom)
Miscellaneous Instagram Story Flyers for Zumiez Stash Brand Partnered Giveaways
(All of these events had additional digital assets that I'm happy to share upon request)